My name is Fran Ruiz Mancebo and I have dedicated a large part of my life to the innovation and development of Child Restraint Systems.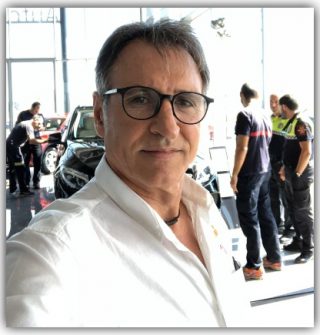 I was born in Barcelona in 1962.
My professional career in the childcare sector, and more specifically, related to child safety began…
Working in a baby products store as a clerk in 1980, I was 17 years old and soon I became interested in the mechanisms of strollers and began to repair all kinds of products related to the sector, I was the owner of an official repair shop of the brand JANE, My relationship with this brand made me meet from a very young age engineers and designers of products related to the baby, my curiosity led me to participate and comment on all kinds of advances that were being developed at that time, as it was a time of many changes, technology began to appear in everything that until then had been very stable.
Soon I started to get in touch with brands coming from other countries, BEBE CONFORT, RENOLUX, companies that were already giving a lot of importance to child restraint systems in their product offer, which were not yet mandatory in Spain.
It was there where my curiosity made me get involved in the knowledge of materials and usefulness of these products to learn more about how they work, it was a time when Spain believed that the safest place to transport a baby was in mom's arms and when I started to attend some tests in LYON, I was amazed at the differences that CRSs offered in a simulated accident.
From then on my professional career was related to different brands PLAY, NURSE, CHICO, ROMËR, TEAMTEX, MONDIAL SAFE. All multinationals.
In 2014, as a result of all the knowledge and experience accumulated in all my years of professional development, I started to explore another perspective of how to look at a CRRS.
In 2020, together with the company Rescuebaby, we obtained the patent for the first CRRS (child rescue restraint system).
And now, from a specific area of AIPSEV's work, we are trying to make society in general aware of the use of Child Restraint Systems, to save lives and avoid injuries.
Fran Ruiz Mancebo, is a speaker at the workshop-talks for future parents, plays the character #ElDoctorTortugo, in the Musical Story Show, and is coordinator of the area S.R.I. and child passenger protection of AIPSEV. He also shares his knowledge in the development of Child Restraint Systems, in congresses, workshops, seminars and courses for professionals related to Road Safety and rescue of victims of viral accidents.
CRRS CHILD RESTRAINT AND RESCUE SYSTEM
FRANCISCO RUIZ, CHILD RESTRAINT SYSTEMS EXPERT
INTERVIEW WITH FRANCISCO RUIZ ON TV OXIGENATE